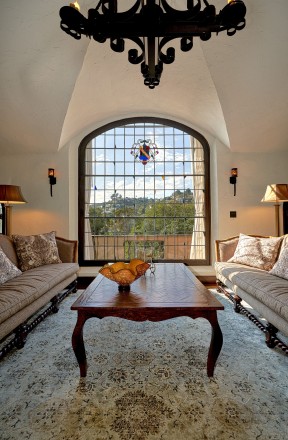 HOME OF HOLLYWOOD ROYALTY IN WHITLEY HEIGHTS
3 Beds
•

4 Baths

•

2,706 SF

•

7,643 SF Lot

•

SWEEPING CANYON VIEWS

•

SPANISH COLONIAL REVIVAL

•

$1,772,500

SOLD

6746 Wedgewood Pl, Los Angeles, CA 90068

SOLD: REPRESENTED BOTH SELLER AND BUYER.
This brilliantly restored home is old-world glamour with new world features. The style of the home is Spanish Colonial revival, and these architectural elements can be seen in the home's exterior stucco façade, saltillo entrance, stone fountain, light fixtures, original stained-glassed windows, and rich wood floors. Additional elements were preserved to display the classic early Hollywood era, such as the ornately hand-carved wooden banister leading to the downstairs, period replica light switches throughout the home, original French doors, black-and-white checkered flooring with dazzling turquoise tiles, and chrome hardware in bathrooms. All of today's modern conveniences are here, too, like a  Sonos system with indoor-outdoor sound system. 
The Whitley Heights neighborhood  is steeped in history. W.C. Fields lived/slept here; Rudolph Valentino was the neighbor. The City of Los Angeles declared Whitley Heights an historic district, where each owner in the community must maintain their property (which can impact stable/increasing home values).
Enjoy the perfect separation of living and entertaining space, with living area and kitchen on upper level and bedrooms on a lower level. All three bedrooms are en-suite.
The two-car garage with epoxy floor from the street enters directly into the open kitchen with its granite counter tops, lots of storage, and dining area. The kitchen has a vintage Wedgewood range (mirroring but not related to the name of the home's street). This range/oven has been passed down from owner to owner and works perfectly. 
The attached chauffeur's quarters is currently used as an office, but could be a guest suite, yoga studio, or writer's room.
Due to the home's HPOZ historic property status, owners get to take advantage of an enormous property tax discount. At the city rate of 1.25%, a $2M home's annual property taxes could be about $25,000. Since the home has been approved for HPOZ status under the Mills Act, it's tax bill in 2017 was only $5,158. 
The home is situated in the center of Hollywood, close to the world-famous Hollywood Bowl, and nearby the Walk of Fame and Hollywood Boulevard. 
Spanish Colonial Revival style
Perfectly preserved and restored property
Sweeping canyon views
Over 2,700 sq. ft. of living space
Over 7,600 sq. ft. of land
3 en-suite bedrooms
Attached guest suite
Large grassy backyard with sitting areas
Outdoor living area with fountain
Rich wood floors
Sonos indoor/outdoor sound system
HPOZ property with Mills Act tax breaks
Close to all the area has to offer
Interior and exterior square footage totals are reflective of City/County records. Buyer to verify.
W.C. Fields, original name William Claude Dukenfield, (born January 29, 1880, Philadelphia, Pennsylvania, U.S.—died December 25, 1946, Pasadena, California), actor whose flawless timing and humorous cantankerousness made him one of America's greatest comedians. His real-life and screen personalities were often indistinguishable, and he is remembered for his distinctive nasal voice, his antisocial character, and his fondness for alcohol.
Owing to a preponderance of fabricated studio publicity, as well as Fields's own penchant for lying about his past, most biographies of Fields are inaccurate. He did not, as has been widely reported, run away from home at age 11 after dropping a heavy wooden box on his father's head. Rather, he left home at age 18 after many years of practicing his craft as a juggler, and he was a headline star in vaudeville by age 21. He toured the world extensively with his comedy juggling act, playing the world's most prestigious venues, including the Folies Bergère in Paris. He added verbal humour to his act shortly after joining the Ziegfeld Follies in 1915; he starred in annual Follies productions until 1921 and made occasional return appearances until 1925.
Fields became one of Broadway's top stars when his performance in the musical comedy Poppy (1923) garnered raves from critics. In the play, he established one of his two basic comic personas, that of the grandiose fraud who flouts the conventional virtues of hard work and honesty. In his next play, the less successful The Comic Supplement (1924), he played the second of his oft-repeated types, the beleaguered husband. Fields also dabbled in film acting during his early years, making his screen debut in the short subject Pool Sharks (1915). He starred in several mediocre silent features during the 1920s that demonstrated how crucial sound was to Fields's screen success. He had given up on a screen career by the end of the decade and was back on stage in 1928 as the star of Earl Carroll's Vanities, Broadway's highest-paid performer at a salary of $5,000 per week.
Fields returned to films in the short The Golf Specialist (1930), for which he reprised a golf sketch he had performed in his Ziegfeld days. After a few stage flops and even fewer film offers, a momentary lull in Fields's career was ended by an offer from Mack Sennett to appear in four comedy shorts. Though Fields was a veteran of more than two dozen films by this time, the Sennett shorts—The Dentist (1932; a film seen only in edited form for many years because of Field's risqué encounter with a female patient), The Pharmacist (1933), The Fatal Glass of Beer (1933), and The Barber Shop (1933)—were the first to fully showcase his comic persona. They brought about a contract with Paramount Pictures, for whom Fields would make some of his greatest films between 1933 and 1938. Never the complete auteur like Charlie Chaplin or Buster Keaton, Fields nevertheless was the dominant creative force of his films. He wrote most of his own screenplays, and, although he worked for several directors, there is little doubt that Fields's films were very much his own.
His Paramount films again feature one of his two comic types, either the con man–braggart or the henpecked husband. The advent of sound allowed for many of the comic devices for which Fields became renowned, such as his fondness for flowery verbiage ("What a euphonious appellation!"), silly names (Augustus Q. Winterbottom, Larson E. Whipsnade), convoluted logic ("Never mind what I tell you to do, you do what I tell you!" or "She can't tell me I don't love her! I'll break every bone in her body!"), and muttered asides ("Some weasel took the cork out of my lunch!" or "She's all dressed up like a well-kept grave"). He confounded censors by substituting "Godfrey Daniel!", "Mother of Pearl!", and "Drat!" for harsher expletives, and he raised the ire of parents by exhibiting an open disdain for children and dogs that nearly matched his fondness for alcohol. His comic persona is well displayed in such quality Paramount films as Tillie and Gus (1933), You're Telling Me (1934), and Mississippi (1935) and in his masterpieces of the era, The Old-Fashioned Way (1934), It's a Gift (1934), and The Man on the Flying Trapeze (1935). Also during this period, Fields was loaned to Metro-Goldwyn-Mayer for their lavish production of Charles Dickens's David Copperfield (1935). A lifelong Dickens buff, Fields reveled in the role of Mr. Micawber (though he was disappointed when director George Cukor would not allow him to juggle in the film), and his performance in David Copperfield is regarded as among his best.
Fields became a major star in his mid-50s, but his career—and his life—nearly came to an end within a few years. His alcoholism (at one point, he was said to consume more than two quarts of gin per day) led to delirium tremens and other serious illnesses, and, after struggling (albeit imperceptibly) through Poppy (1936) and The Big Broadcast of 1938 (1938), he was dropped by Paramount. Though he never stopped drinking, a lengthy convalescence allowed him to become a regular in 1937 on the popular radio program The Chase and Sanborn Hour, starring ventriloquist Edgar Bergen and his wooden ward, Charlie McCarthy. Fields was a hit, and the Fields-McCarthy sparring matches are considered classic radio fare. In addition, Fields liked the easy work of radio, and the show helped maintain his star status as his health improved enough to allow him to return to films.
While other comics such as Buster Keaton, Laurel and Hardy, and the Marx Brothers saw their careers destroyed by big studio intervention, Fields found a congenial work environment at Universal Studios. The studio had something of a "bargain basement" reputation during the 1930s and '40s, but its casual atmosphere and hands-off approach allowed Fields to create a few more comic masterpieces. You Can't Cheat an Honest Man (1939) costarred Bergen and capitalized on the popularity of the Fields-McCarthy radio feuds, and My Little Chickadee (1940) teamed Fields with Mae West in an uneven film that nevertheless contains many classic scenes. The Bank Dick (1940) is regarded as one of Fields's best films; it is perhaps the final great film from the master comics who dominated film comedy between world wars. Fields's final starring vehicle, Never Give a Sucker an Even Break (1941), is a plotless, near-surrealistic comedy that, while a step down from The Bank Dick, is regarded as a major work. Fields's ongoing health problems thereafter prevented him from obtaining a contract with a major studio, and he finished his screen career with cameo appearances in four films of the 1940s.
To many, Fields ranks alongside Chaplin and Keaton as one of the screen's greatest comic performers. Critics have made the distinction that, while Chaplin may have been America's greatest comic filmmaker, Fields was America's funniest man. He died on Christmas Day, 1946—ironically appropriate for a disbeliever who once confessed to be studying the Bible "for loopholes."

Chris Gray
Realtor
DRE# 02012829
323.612.7086
Gray@LALuxeGroup.com
LALuxeGroup.com | My Bio

439 N. Canon Dr., Penthouse
Beverly Hills, CA 90210
kw.com

Jeff Yarbrough
Realtor & Principal
DRE# 01341959
323.854.4300
Jeff@LALuxeGroup.com
JeffYarbrough.com | My Bio

439 N. Canon Dr., Penthouse
Beverly Hills CA 90210
kw.com
Request A Showing or More Info: